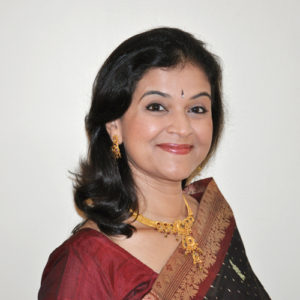 Dr.Arti Datta is the Artistic Director of Mudra Dance Studio, Muttontown, NY and the Founder President of the nonprofit The Mudra Foundation: Art for a Cause.
Dr. Arti Datta was initiated into Bharatanatyam early in her childhood in India. As a disciple of Guru Shri Mani of Kalasadan, one of the premier cultural institutes in Mumbai, India, she trained in the rigorous Vazhuvoor tradition. Dr. Datta continued her education in dance at the Bhartiya Vidya Bhavan, London, UK. She has performed extensively in India, U.K. and the United States.
On the occasion of the 10th Anniversary of the dance school, as a way of integrating her passion for dance with a desire to give back, she founded the non profit The Mudra Foundation: Art for a Cause. Since it's inception the Foundation has contributed to several worthy causes.
Dr. Arti Datta is a clinical scientist by profession and has conducted her post-doctoral cancer research at the Hammersmith Hospital in London, U.K. and at the NYU Langone Medical Center in New York.
Dr. Arti Datta has successfully choreographed and directed several multi-media productions including Shiv-O-Hum, Leela – The Play of Krishna, Yatra – A Journey of Indian Dance, part of the Joseph G Astman International Concert series at the Hofstra University, NY, Devi: An Ode to Mother Goddess, Arpan – An Offering, a benefit for the victims of the Japan tsunami disaster, WATER : The Flow of the Divine, a fund raiser for Sankara Eye Foundation and AANGIKAM – a tribute to the victims of the Nepal earthquake.
The upcoming production to be staged on the 24th of June is NAVARASA – The essence of the Nine Emotions benefiting the Guide Dog Foundation.
Dr. Arti Datta serves on the Boards of the Long Island Arts Alliance & Arts in Education at Syosset School District and volunteers her time at New York Cares. Her personal goal is the enrichment of artistic life on the island and to form a conduit between the performing arts and deserving causes through the Mudra Foundation.